We achieved record highs in net sales, operating income and ordinary income for the financial results in the fiscal year ended March 31, 2016.
The successful results were primarily due to the contribution in terms of financial performance by Power Supply Technology Co., Ltd., a company that was included in the Group last year. With its inclusion, our business features the in-house development and design of switching power supplies for business machines, such as multi-functional printer(MFP) and projectors, in which Japanese companies enjoy high market shares. This is very important to us because we can make our company very profitable by building on fairly competitive technologies and addressing customers' needs satisfactorily.
To ensure that the PS business continues to grow going forward, we took measures such as the transfer of engineers from the EMS segment and the placement of orders for trial and mass productions by the PS business unit with the Group's EMS.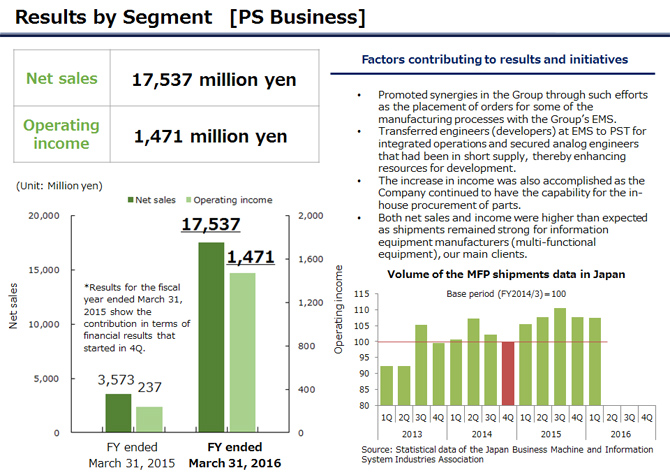 In addition, given the healthy financial position of the Group as a whole thanks to the favorable results, we implemented internal structural reform programs, posting an extraordinary loss attributable to the structural reform in the EMS business last year.
Consequently, the net income reflected our determination to establish a robust company structure, even though it ultimately fell short of the original plan. Your understanding is appreciated.